Victoria protests escalate as child under 10 among new deaths – as it …
22:35
Wild weather to hit parts of NSW tomorrow
Updated

22:30
Thousands of protesters march in Sydney and Adelaide
Updated

22:17
Speeches have started at Flagstaff Gardens. Rightwing pundit Morgan C Jonas leads chants of "kill the bill" before claiming this is the biggest protest in Australian history (it isn't, anti-war protests, climate protests and union marches in Melbourne over the last two decades have drawn equal or bigger crowds).
He's also claiming credit on behalf of the movement for the pandemic legislation bill being delayed in Victorian state parliament this week and expressed admiration for Adem Somyurek, who he says "will not sell out".
"Are we willing to go to the absolute end?" Jonas says, and the crowd cheers.
"Is it fair to say that we will go to any length necessary to rid our parliament of those traitorous politicians?" More cheers.
"There is no doubt in my mind that we are winning."
Updated

22:04
William Tyrrell search takes hessian sack for testing
Forensic teams digging up a patch in thick bushland in search of the remains of William Tyrrell have found another piece of evidence, which they have taken for specialist testing.
On the sixth day of the search next to the Kendall home William was last seen at in 2014, officers found an empty green hessian sack, understood to have been a sandbag.
Its significance to the investigation is unclear, and it has been taken for forensic testing.
Two other pieces of evidence have also been found at the dig site – a piece of red thread found on Wednesday that initially fuelled speculation it could have been connected to the Spider-Man costume William was last seen wearing.
On Friday, searchers found a small piece of light-blue fabric by a creek next to the dig site that had been pumped.
All evidence is nevertheless being forensically examined.
You can read more about the revived search for William here:
Updated

21:54
Melbourne's Flagstaff Gardens is slowly filling up with people as the end of the anti-bill rally snakes by the city.
There's music playing from loudspeakers at the top of the hill to a particular theme –David Bowie's Rebel Rebel, John Farnham's You're the Voice, the White Stripes' Seven Nation Army – interspersed with chants of "freedom".
On other cultural touchstones, I've seen a few Make America Great Again caps and Infowars T-shirts in the mix since I got here too.
I'm told the anti-fascist counter-rally is moving down Swanston Street now from Carlton.
Updated

21:41
Child under 10 dies with Covid in Victoria
Updated

21:19
Northern Territory records one new Covid case
Updated

21:15
The front of the anti-bill rally is all the way up at Flagstaff Gardens now, which, for anyone who isn't particularly familiar with Melbourne's layout, method they've crossed almost the complete CBD. When I left Russell Street not long ago, people were nevertheless streaming down from Parliament.
There are thousands of people here.
There is a lot of nationalism on characterize. Not just the Australian flags, which are everywhere, but I've also seen flags and scarves from Poland, France and Greece.
I've also seen a rainbow flag and an Aboriginal flag. Politically, it all feels completely topsy turvy.
Updated

20:57
To give you a bit of a flavour of this protest, here are some of the slogans I can see from my current vantage point:
Dan Andrews is the #1 enemy of the state
You divide, We Unite
Permaculture: local solutions to global problems
Mandates are keeping families apart
Silence is compliance
No jab, no job, no way
Dan is an Illuminati puppet
No vax passports
It is not OK to grant unchecked strength to government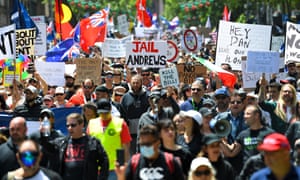 The crowd is composed of a cross-section of ages – lots of families – though it is mostly caucasian as far as I can see. A few masks on, not many.
The rally at Trades Hall is on the move now, heading towards the city.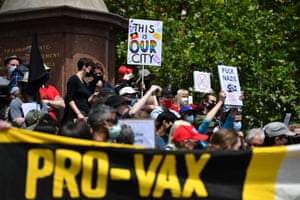 Updated



Click: See details